Basic Science 4.0 Institute
Basic Science 4.0 Institute
Basic Science 4.0 Institute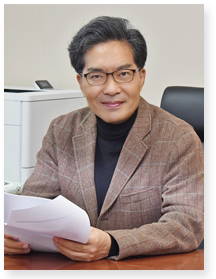 Kaist College of Natual Sciences
dean
KIM Sang kyu
The Basic Science 4.0 Institute is the first 'autonomous' core research institute in a novel initiative between the Ministry of Education and the Research Foundation, operated on the basis of its unique philosophy and vision rather than minute regulations. It is a genuine honor for the KAIST Research Center for Natural Sciences to be selected to open such a meaningful and novel research support project for the 21st century. We thank the participating department heads, as well as professors and staff in the operating committee who worked hard to make this selection possible. We are also deeply grateful for the enthusiastic and practical support from the Director of Research Affairs and KAIST headquarters.

The main focus of the Basic Science 4.0 Institute is to cultivate the next generation of leaders in basic science, by giving young researchers the freedom to choose their research topics and achieve independence as researchers. In particular, we hope to give post-doctoral research fellows and research professors the opportunity to forge their own paths, without being constrained by the research of full-time professors. Our institute currently employs three outstanding full-time research faculty, selected through open recruitment and fair evaluation, who are performing their own independent research. Full-time research faculty are provided with labor expenses as well as research funding, to build infrastructure for their growth as independent researchers. Furthermore, we provide funding to around 20 projects per year to discover new research topics and attempt novel research that hasn't been tried anywhere else. Although the sum allocated to each individual project is not large, we believe that it motivates researchers to explore and open new areas of research.

The success of our institute until the end of the contracted period in 2028 is tied to the success of the Ministry of Education who conceived the project, and the Research Foundation which executed it. In the implementation of such a novel undertaking, we expect to go through a period trial and error in many aspects. Candid communication and open cooperation between the institute and the foundation, as well as between KAIST and the researchers will be key to overcoming the challenges ahead. One thing I have come to realize is that good proposals are not necessarily selected through strict review processes, and good researchers are not measured by statistics or numbers. Evaluating a researcher based on verified research performance is not a good predictor for their future achievements. A research proposal with quantifiable feasibility and value is not necessarily what we would call good research in future potential. Science that surprises and changes the world will not be produced from research conducted in continuation of past research. The Basic Science 4.0 Institute will keep its focus on its mission to develop the nation's capacities in basic science, as it strives to grow as a new model for research institutions, with the freedom to dream of an uncharted future.

Thank you.